Care Plus klamboe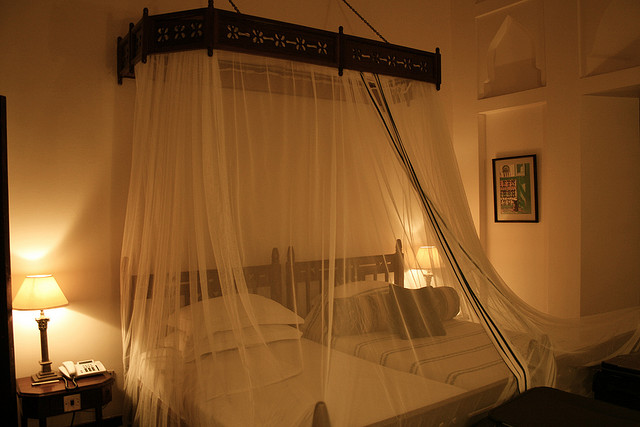 Met de klamboe van Care Plus ben je beschermd tegen alle insecten. Want niets is zo irritant om tijdens je reis gestoken te worden door insecten. Maar stekende insecten zijn behalve irritant soms ook nog eens gevaarlijk. Het is dan ook belangrijk om jezelf goed te beschermen tegen insecten. De producten van Care Plus verminderen insectensteken en overlast, waardoor je het risico op insectensteken verkleint. Zo kan je bijvoorbeeld kiezen voor de klamboe van Care Plus. Hiermee verminder je gemakkelijk het risico op steken van insecten!
Koop hier een klamboe tegen insecten!
Een goede voorbereiding is het halve werk
Als je op reis gaat wil je zo goed mogelijk voorbereid zijn. Je pakt je koffer zorgvuldig in en hoopt dat je niets vergeet. Hierbij denk je aan genoeg kleding voor de reis, maar ook diverse gezondheidsproducten. Met de handige inpaklijst van Meenemen.nl zie je gemakkelijk of je iets vergeet of niet.
Zeker bij een verre bestemming van je reis is het belangrijk dat je je goed voorbereid. Zo zal je misschien diverse vaccinaties moeten nemen, maar je zult ook belangrijke dingen zelf mee moeten nemen. Bij verre tropische bestemmingen moet je bijvoorbeeld denken aan een klamboe. Bij Care Plus heb je gewone klamboes en geïmpregneerde klamboes.
Klamboes Care Plus
Met de klamboes van Care Plus houd je muggen, insecten en ander ongedierte op afstand. Zo kan jij zorgeloos genieten van je nachtrust. Maar stekende insecten verstoren niet alleen de nachtrust, maar kunnen ook een aantal ziekten overbrengen. Denk hierbij aan malaria, gele koorts en knokkelkoorts. Wanneer je echt optimaal beschermd wilt zijn tegen insecten is het verstandig om een klamboe te combineren met DEET anti-insectenspray.
Bij Care Plus kan je kiezen tussen een gewone klamboe of een geïmpregneerde klamboe. Voor verre reizen naar gebieden waar de malariamug leeft worden de geïmpregneerde klamboes geadviseerd.
Geïmpregneerde klamboe
De geïmpregneerde klamboes van Care Plus voldoen aan een aantal voorwaarden om als goede bescherming tegen (malaria)muggen te werken. Zo biedt de klamboe alleen extra bescherming als het net rondom gesloten is. Verder moet de klamboe gemaakt zijn van duurzaam polyester, geïmpregneerd zijn en mag de maas grootte niet grote dan 1,75 milimeter zijn.
Met de klamboe van Care Plus kan je zorgeloos genieten van een heerlijke vakantie!